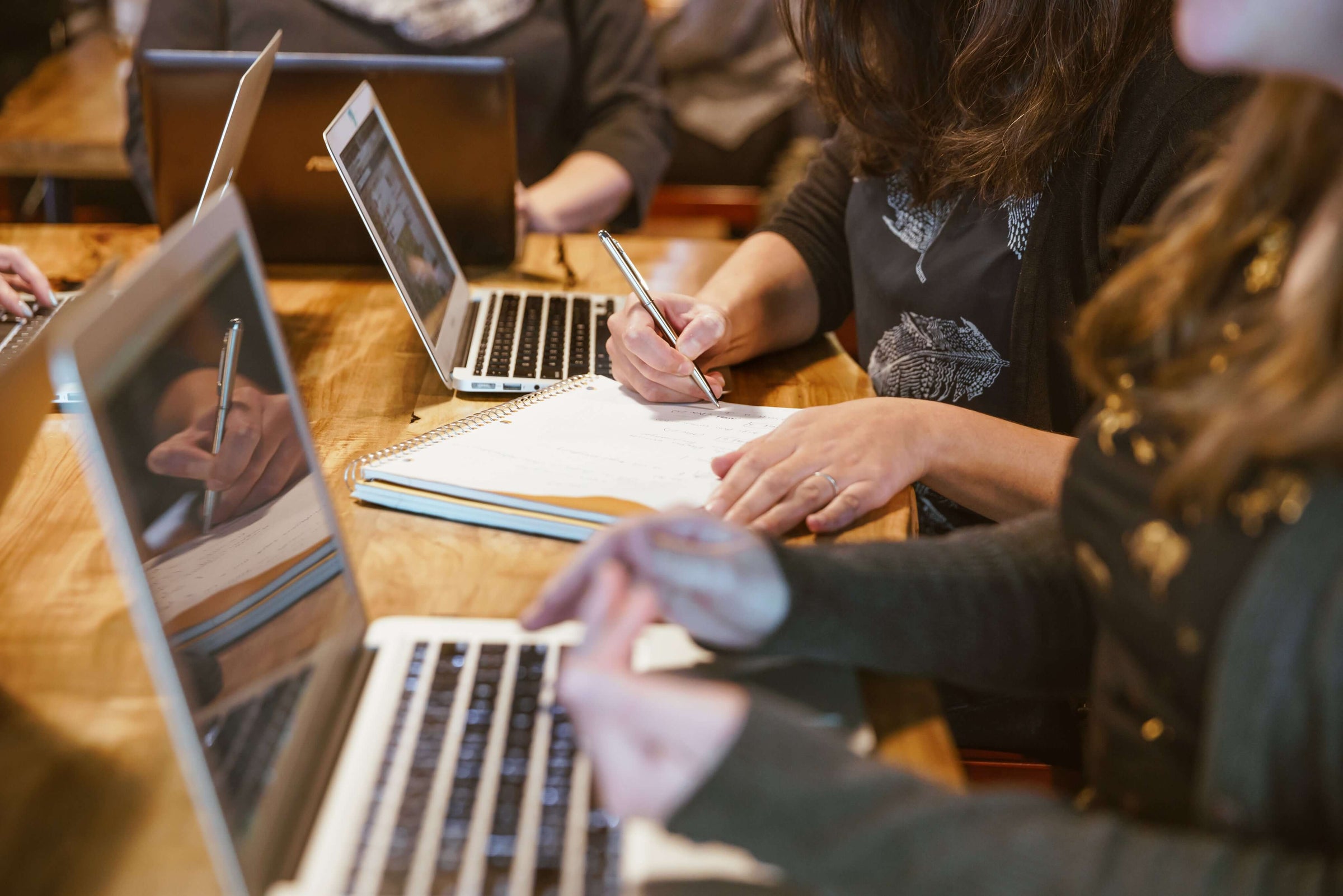 Get mentorship and FREE workshops to help you succeed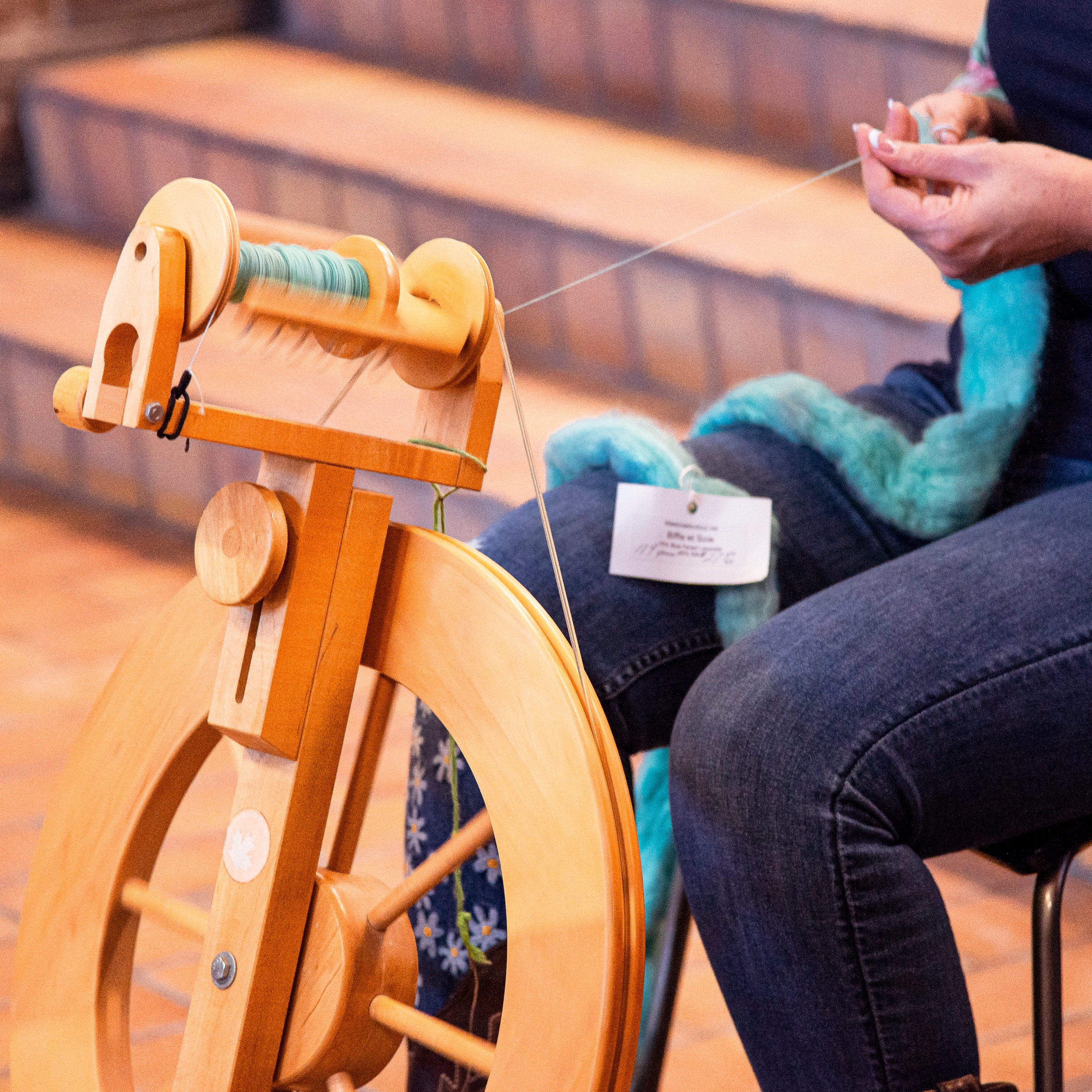 Make artwork that shows off your personality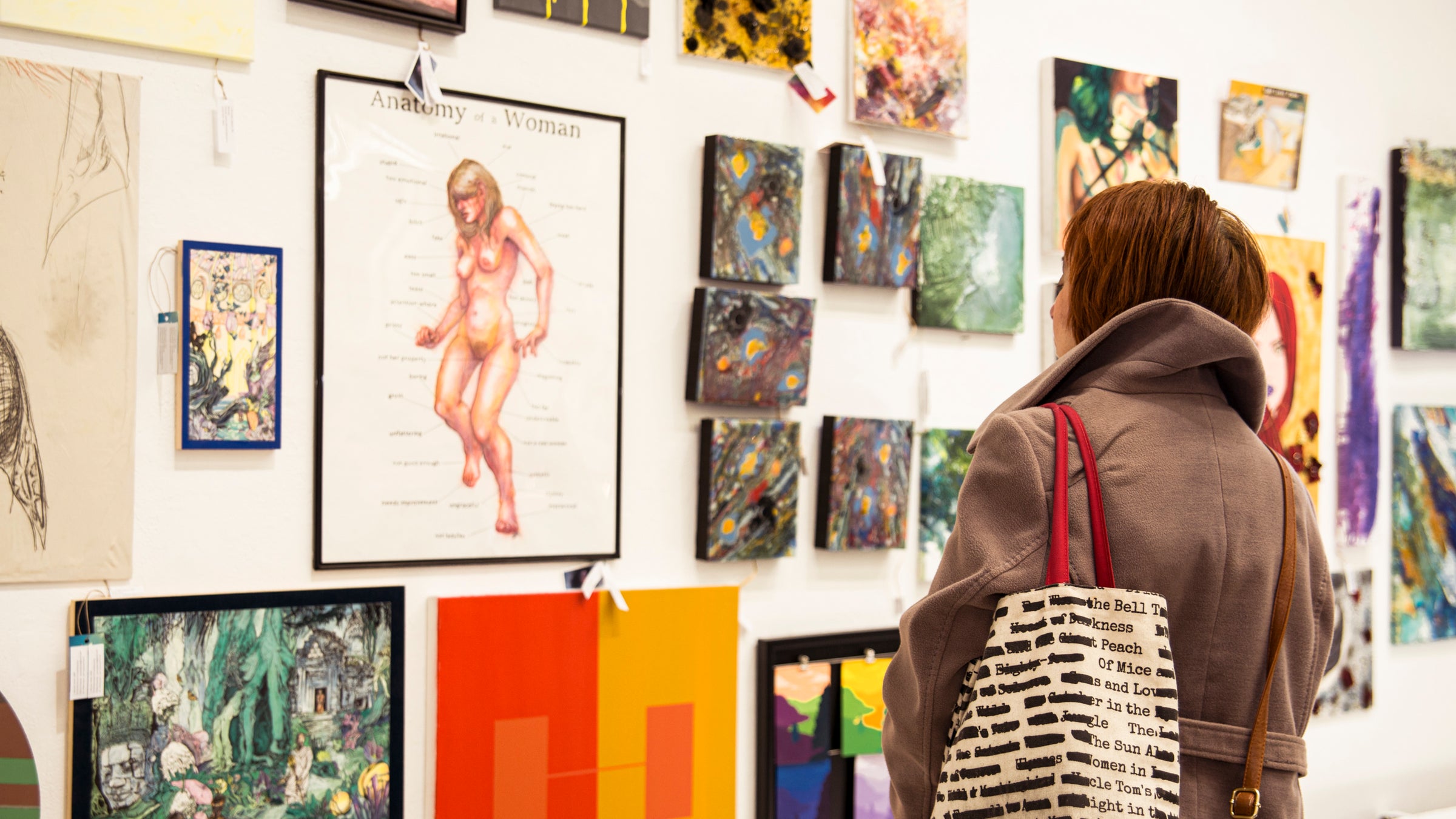 Showcase your creations in person and online
WELCOME TO SHOW + SALE
A program for artists with entrepeneurial spirit
Show + Sale is your opportunity as a current AUArts student to sell your work to the public and learn professional development skills! Our program helps BFA, BDes, and MFA students hone their professional skills and provides them with a platform to sell their artwork with confidence. Each academic year we host two intensive programs that culminate in a selling opportunity:
The Winter Market program (6 weeks from Oct-Nov)
The Virtual Spring Market program (10 week e-commerce program from Feb-Apr)
At Show + Sale, students don't just sell their art, they learn how to run their own business and market themselves after graduation! Our workshops cover pricing, marketing, and other essential skills you'll need to succeed and are taught by nationally recognized artists, gallerists, and arts professionals. Participants will also receive jury feedback on their artwork and mentorship from the Show + Sale team to help them grow.
At the end of the program we'll celebrate your journey by showcasing your artwork to the public! Our Art Market events attract over 1000+ visitors in-person AND online. During the 2022-2023 academic year our artists took home over $70,000 after commission. With a highly competitive 25% sales commission and a 94% artist selling rate, Show + Sale is one of the most accessible (and lucrative) opportunities in Calgary.
Calling all AUArts students!
Winter Market Program 2023
Applications open until September 27, 2023 at 11:59pm MST. ALL applicants accepted!
Apply Now
The Winter Market Program - OPEN CALL
All applicants accepted / Beginner friendly
Our 6 week Winter Market Program runs from October 7 - November 18, 2023 and focuses on preparing AUArts students to sell their artwork in market and gallery settings. This opportunity is an OPEN CALL, meaning ALL applicants are accepted. To help you grow, our jury will provide all applicants with written feedback.
All you need to apply is a 150-250 word artist statement and 3-10 images of your artwork!
During the program you will attend 3 workshops covering the basics of pricing your artwork, creating an inventory, and writing a compelling artist statement. You will also contribute a 4hr volunteer shift where you can learn to install various types of artwork or practice your networking skills with customers.
At the end of the program we will celebrate your growth with a 2 day Winter Market on November 17 and 18, where you will showcase your work to over 1000+ attendees!
Applying to the Winter Market
150-250 word artist statement on what you make and why
3-10 images of your artwork
prototypes and sketches of future pieces are encouraged
All applicants will receive feedback from our jury
Need help applying? Email showandsale.sa@auarts.ca for 1 on 1 help!
The Perks
Inventory space per student: 30 unique items x 10 in stock (with possibility of inventory extension)
Access to jury feedback, 1 on 1 mentorship, and FREE workshops from day 1 of the program
FREE basic packaging materials
Get your artwork in front of customers who love the arts!
Highly competitive 25% sales commission
Your 3 Workshops
Artist Onboarding - LIVE October 7 from 1-2pm
Inventory Basics 100 - pre-recorded workshop
Pricing 101 Series - Pick 1 of our 3 pre-recorded workshops or attend a LIVE workshop in October (date TBD)
Expect to spend 3-4 hours total on workshops during the program. Are you a keener? You can get a head start on your workshops anytime!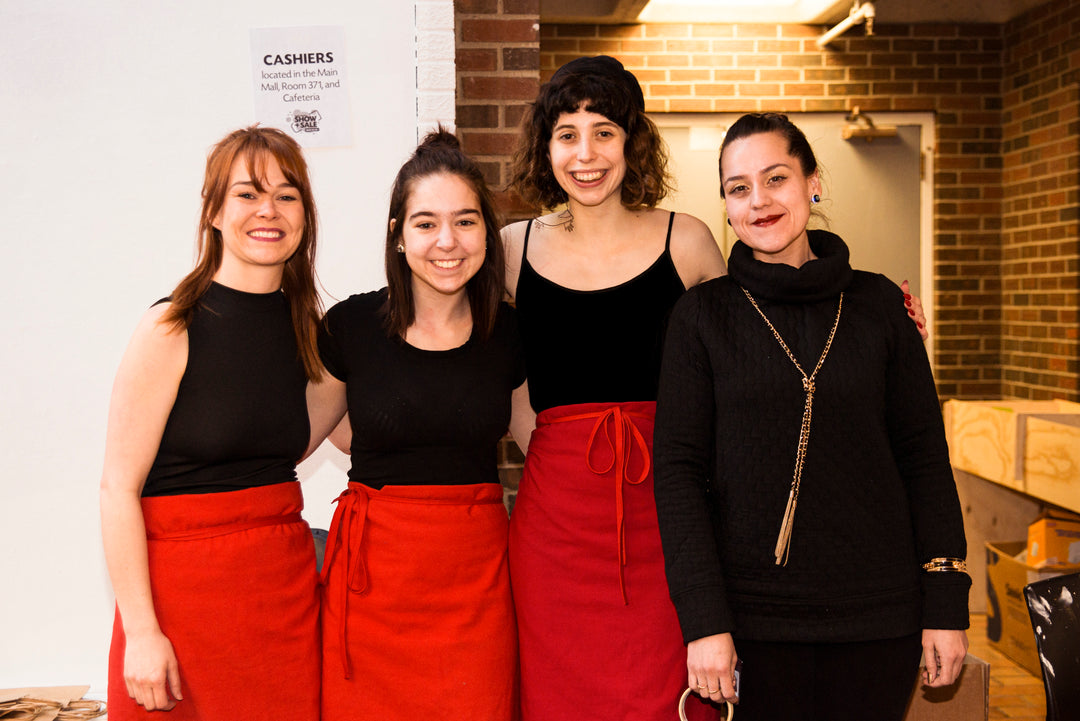 Volunteering
ALL participating students (with some exceptions) will contribute a 4hr volunteer shift between November 10-30. Shift options include:
Installing/de-installing artwork and displays
Customer service (greeting, retail assistance)
Organizing artwork inventory
Extra Opportunities
Jewelry + Metals majors will have a formal booth at the Market and will be exempt from volunteer hours
Registered Artist Groups get bonus marketing and contribute 3 volunteer shifts
Apply as a Demoing Artist to show off your art skills to the public (honorarium available)
Want a marketing boost? Get seen on TV with our media connections!
Meet the Winter Market 2023 jury!
Dr. Jennifer Salahub
Jennifer E. Salahub Ph.D. is Professor Emerita of Art and Craft History (AUArts) and sits on the Board of the Alberta Craft Council. Her interest in art, craft, and design is long standing and is reflected in her professional and personal life. She continues to be fascinated by the unexplored (neglected and lost) early history of craft and craft education in Alberta. Most recently she published "'A Lot of Heifer-Dust': Alberta Maverick Marion Nicoll and Abstract Art" in Bucking Conservatism: Alternative Stories ofAlberta from the 1960s and 1970s (2022).
Jen Schier
Jen Schier (she/her) is a graphic artist, print media person & lettering enthusiast living and creating in Mohkinstsis (Calgary, A.B.) in traditional Treaty 7 territory. Jen is most interested in typography and letterforms and the relation between historical art processes and modern design. She explores lettering within screenprinting, traditional sign painting and mural work.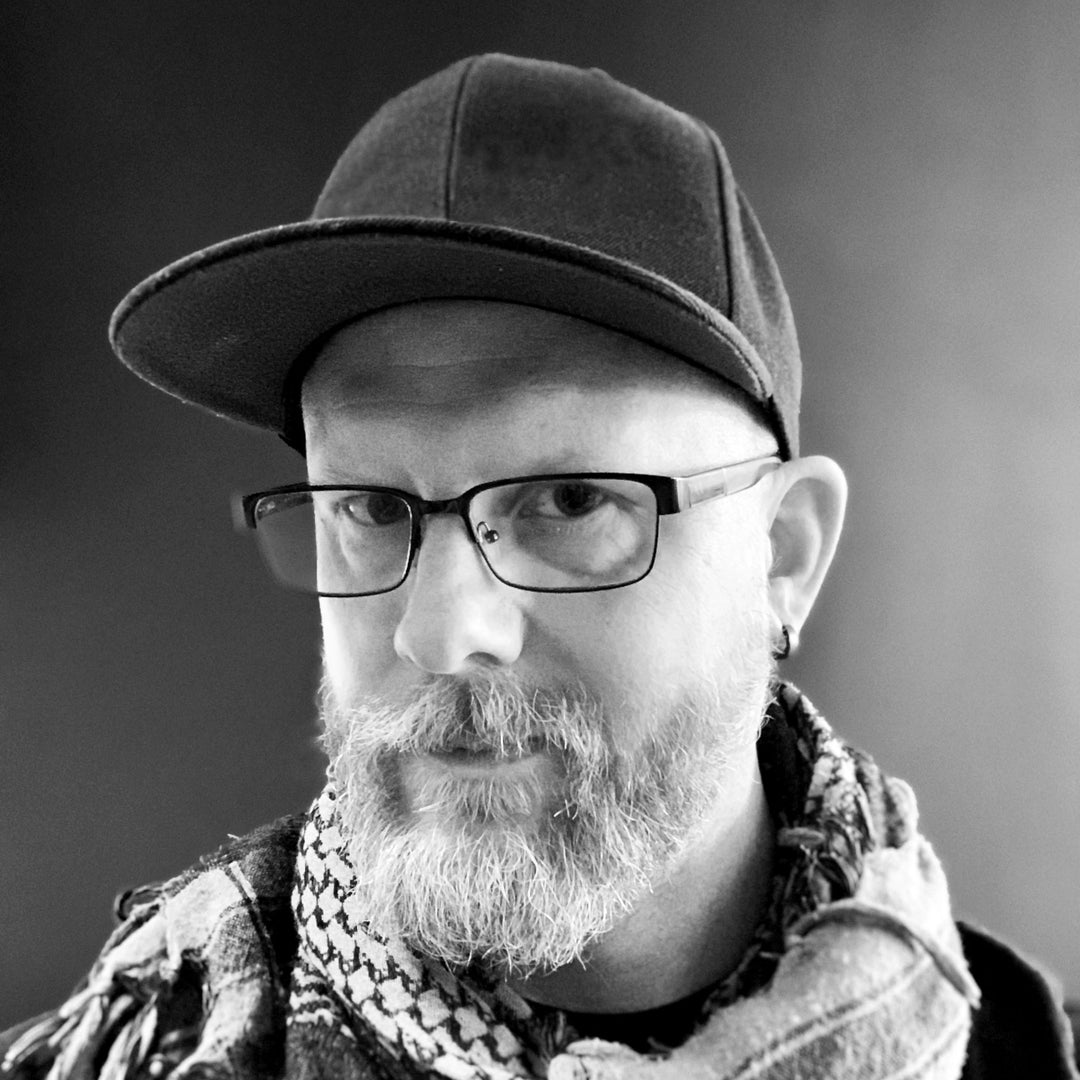 Michael Grills
Michael has been making art, illustrations and logos for design agencies, magazines, publishers, video directors, and video game makers worldwide since 2000. Michael Grills graduated from the Alberta College of Art and Design and went directly to Bioware Corp. in Edmonton, getting hands-on experience making AAA story-driven RPGs. He lives in Calgary with his wife and two children and loves bike riding, martial arts, kites, and camping. With Banff out the back door, it's no wonder he keeps the studio here.
Apply as an Artist Group
Fundraise for your club, gallery, or event with Show + Sale and take advantage of a 15% sales commission!
Apply Now
What our Show + Sale alumni are saying
Diving into Show & Sale was such a thrill! Seeing my pieces presented on the digital platform, and then watching them find new homes, was exciting and was confirmation that I am on the right path with my ceramic practice.

Vivian Smith

BFA graduate 2023
Show and Sale was a supportive and low-risk introduction to markets and personal branding, and it's something I think every AUArts student should try to take part in.

Terri Lemire-Wilson

BDes graduate 2023
As an emerging artist, the experience of participating in the Show + Sale has boosted my confidence in showcasing both my art and myself professionally. I would encourage all students to participate... it is well worth your time!

Elise Lavalee Findlay

BFA graduate 2023
Feb-Apr 2024
The Virtual Spring Market program 2024
Learn more about Show + Sale's e-commerce focused program running Feb-Apr 2024.
Coming Soon