Winter Market Map 2023
Show + Sale is taking over the AUArts campus to showcase our 100+ student artists at our Winter Market November 17-18, 2023. We are proud to display artwork from our talented craft, design, and fine arts students that you can't find anywhere else in Calgary!
Be sure to check out our Winter Market Map to find out where you can find show-stopping paintings, handcrafted ceramics, fine art prints, and so much more.
Main Mall
Centerpiece Square
Looking for a showstopper piece for your home? Come to Centerpiece Square, where you'll find paintings, sculptures, and mixed media that you can't find anywhere else.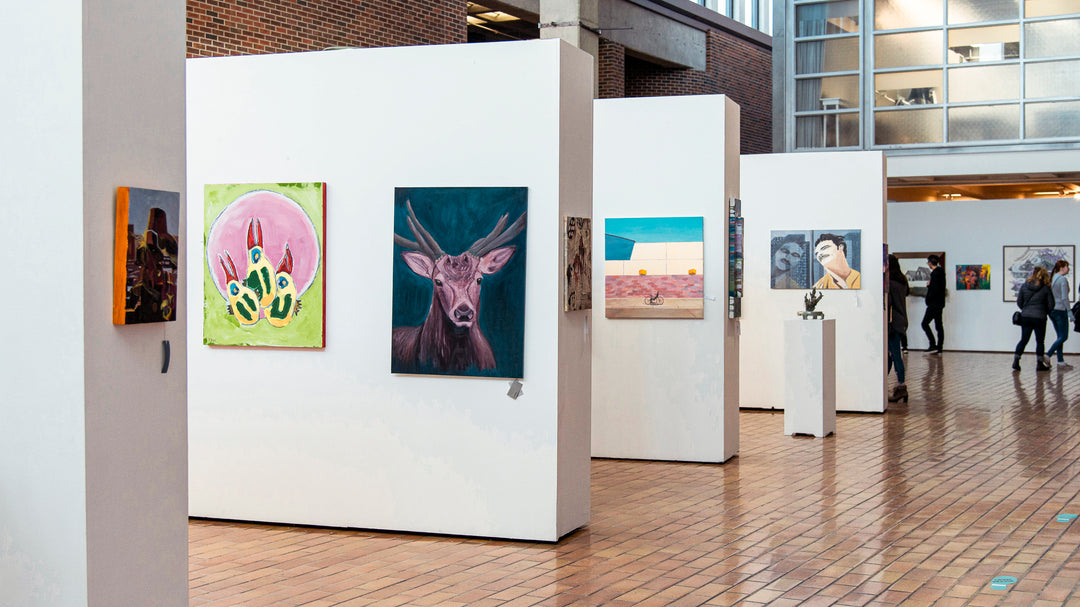 Main Mall
Demo Stage and Photobooth
Ready to take a break from shopping? Stop by the Demo Stage to relax and watch some live art demos on our family-friendly day, Saturday November 18. Demo schedule coming soon.
Make sure to stop by the Photobooth while you explore the Winter Market to take a fun selfie.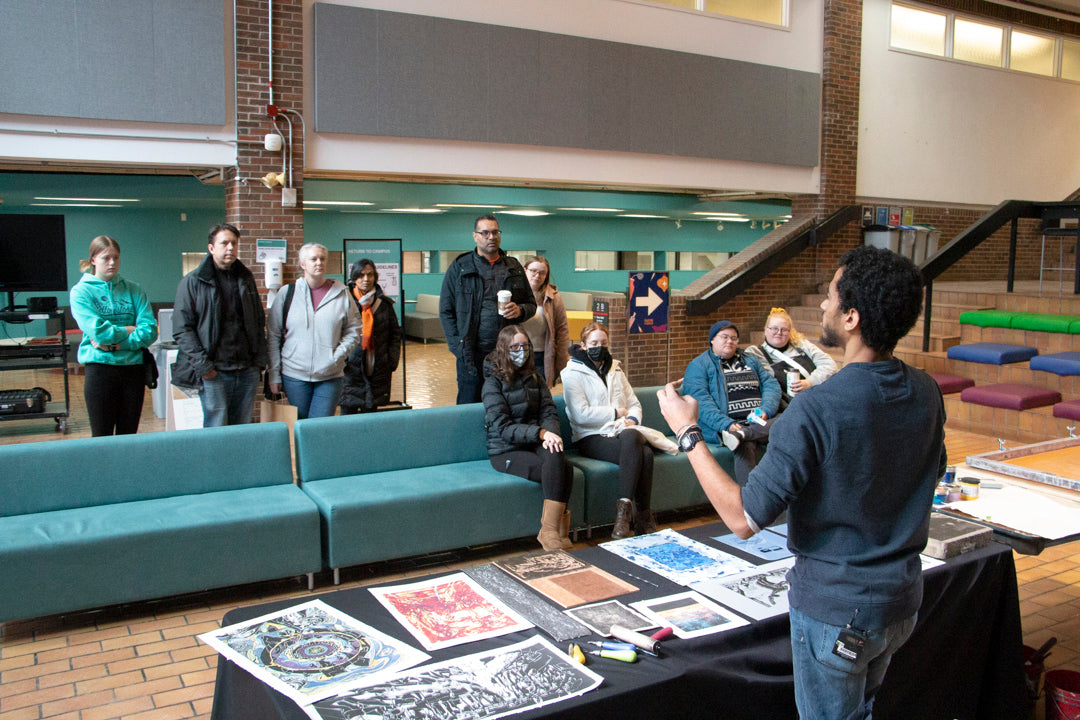 Marion Nicoll Gallery
Show[CASE] Gallery and Silent Auction
Looking to see the best of the best? Our Show[CASE] area is curated with our favourite pieces by the Show + Sale team.
For the First Night Fundraiser on November 17 from 5pm-9pm, Show + Sale will be hosting a Silent Auction, where you can bid on one-of-a-kind art pieces made by students and alumni, and artistic experiences from AUArts. Bidding proceeds go towards the Show + Sale program and the AUArts Boost-a-Student Fund.
Main Mall
The Salon
Browse through a wide selection of framed and canvassed original artwork, including paintings, drawings, and more. This is the spot to find the perfect artwork for that niche by the stairs. Great for all budgets large or small.
Cafeteria
The Boutique
Join us at The Boutique, where you will find handcrafted jewelry and stylish fashion statements. Our jewelry and fibre artists only use the highest quality materials, and their artwork is sure to turn heads at your next Christmas party. As a bonus, you'll get to meet the artists behind the work and learn more about their processes.
Lower Main Mall
Print Avenue
Print Avenue is back and better than ever! Prints have a special charm and make for great gifts. If you're looking for holiday cards, zines, or stickers, head to The Gift Box. Make sure you stop by the Printmaking and Photography sections, where you'll find high end prints with flair. Need inspiration? Come see our display wall in the Edition Pavilion and explore our print bins for the perfect print. 
Room 371
The Craft Corner
Don't forget Show + Sale's best kept secret: The Craft Corner. Here you'll find handmade glass and ceramics sure to delight that hard-to-buy-for person on your shopping list. Unlike industrial-made decor, each piece shows the mark of the maker and is completely unique. Our popular items, including glass ornaments and ceramic mugs, go fast so arrive early for the best selection. 
Coming Soon
Check out our Artist Roster
With 100+ talented student artists showcasing their work at the Winter Market, you're sure to find artwork as unique as you!
Artist Roster